Customer asked discount of the semi automatic machine
Customer asked discount of the semi automatic machine
Customer( I-sh-semi)
Enquired about the price of semi automaitc machine with three size of different-strapping seal clipss
Answer:
2900 usd/set/FOB/with one size of mold
extra size mold is 150 usd/set
Customer( I-sh-semi)
Wish discount
Answer:
Best offer is
2900 usd + 150 usd with two extra size molds which means one mold free of charge for this season promotion
Customer( I-sh-semi)
Considering now
Click to see the semi automatic-strapping seal clips machine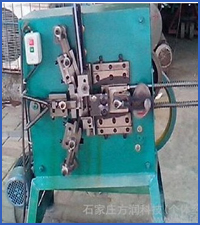 Why India machine of packing clip is a little bit cheaper than yours?
Answer: because our is semi automatic machine which is based on the automation of our
automatic machine but only difference is the feeding, automatic feeding is from steel coil that
is fed automatically through the machine's pulling strength, whereras the semi automacal machine
is fed by hand through vertical feeding into machine and onece you put the scraps strips into the
machine you make them produce the strapping seal/clip automaticall without feeding all the time
for each strapping seal/clip like the Indian ones which are not safe and efficient at all.
Or send your message from your apple or addroi phone
---
Question and Answer
If you need a
 

steel-strapping clip-machine for producing your steel-strapping clip-using materials from steel coil or from

 

steel scraps

 

( by using steel scraps-strapping clip-machine) it is here for your correct choice.
Is this steel-strapping clip-machine expensive?
No, it is not expensive.
Is the machine slow or fast?
What's the machine lifetime in case it is used daily?
Well, it is more than ten years if you use it daily.
What other parts should be changed?
it is only one part which needs a change every one or two months depending on your usage frequency, it is the part of cutting tool device which is made from

 

Japanese SKD high-speed steel

 

and it is ten minute work to change it which we will provide you with spare parts for your whole year usage when you newly purchase from us.
Is it easy to install?
yes, it is very easy once you fix the machine four feet by screw provided by us in less on the hour you may run the machine as soon as you plug into the electricity socket which is 360--420V/3P.
How many months shall we get back what we will have invested?
Well, if you have two or three big customers who order monthly, you will get back your funds invested in the machine in less than half a year. because it is a simple calculation that the machine value is only 3% of the value of products produced from the new machine only in half-year even under an extremely world wide slow down in the economy.so don't look down upon this tiny machine whose performance is phenomenal!
Yes, you can have the LOGO embossed easily on the bottom of the steel-strapping clip-because on the left side of the machine there is embossing device that enables the embossing simultaneously with the processing of seal shaping, cutting, and finishing.
Can we get a specification of the machine or manual?
How many days can we get the machine after putting order to you?
it is only 15 days after we get the downplay or from the date on which we send to you the Proform Invoice and agreed by both parties.
Can we talk to you face to face about the purchasing of the machine?
Yes, you are welcome to come to pay a visit. our selling office is at Shanghai where you may easily fly over which airport is connected with most of the major cities in the world.
Can you call you by phone about the questions we need to ask?
Yes, you add me to your Whatsapp list and we start to talk freely.
Can this machine produce 16 19 and 32 mm width of steel -strap clips- in the same machine?
Yes, it can produce all the sizes of the steel-strapping clip-in the same machine and easy to change the seal making the device part inside in few minutes.
If you want to know more
Please send email to us
zjaska@vip.163.com